Source: Nourish Magazine - Volume 2 - nº 5 - 2014 - Page 34
Recipe from Kate Crocker from Gluten free lunch box (according to the website)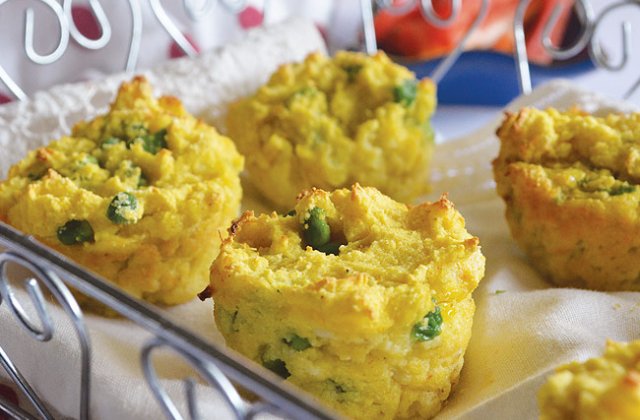 Image source: Nourish Mag website
Makes 12
Ingredients
250g cauliflower
70g fresh or frozen green peas 
(if using fresh, weigh peas after 
they have been shelled)
55g gluten-free self-raising flour
20g coconut flour
½ tsp mild curry powder
¼ cup coconut milk
1 egg, lightly beaten
Pinch of salt
Method
Preheat oven to 180°C (conventional oven) or 160°C (fan-forced oven). Grease and line 12 cavities in a mini-muffin tin (25ml capacity).
Roughly chop the cauliflower into large chunks. Steam for 15 minutes, or until tender. Remove from heat and set aside. Steam the peas for five minutes (if using fresh peas) or two minutes (if using frozen peas).
In a large bowl, mash the cauliflower. Add the steamed peas and allow to cool a little.
Sift in the self-raising flour, coconut flour and curry powder. Add the coconut milk, egg and salt. Stir to combine.
Spoon the mixture into the muffin tray, filling each cavity.
Bake for 20 minutes.Tip: If your child isn't into curry powder, try replacing it with ¼ teaspoon of freshly grated nutmeg.