I think we could call this dish a salad. What do you think?
This is from a woolies magazine that has been sitting on my work desk for months, literally
Source: Fresh Issue 130 - April 2017 - Page 21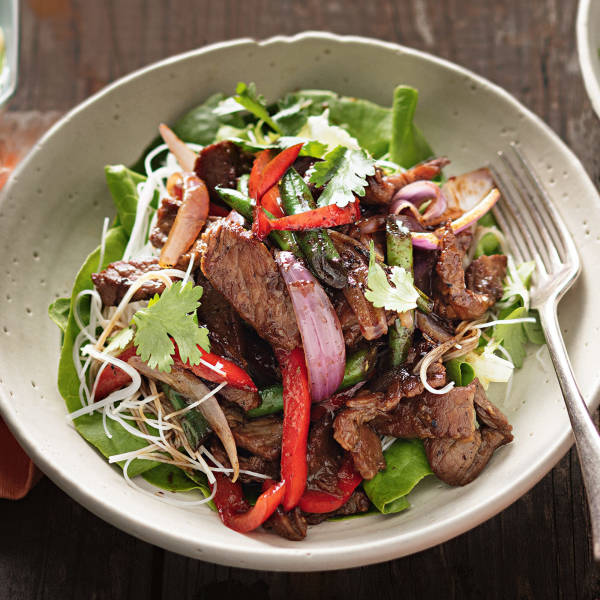 Image source: Woolies Website
Prep: 10 mins (+ marinating), Cook 10 mins, Serves 4
Ingredients:
1/4 cup gluten-free fish sauce
2 tbs brown sugar
3 garlic cloves, crushed
2 tbs vegetable oil
600g MSA Australian porterhouse steak or rump steak, thinly sliced diagonally
100g pkt rice noodles
1/2 cup lemon juice
1 red onion, cut into thin wedges
150g green beans, trimmed, cut into thirds
1 large red capsicum, deseeded, thinly sliced
1 butter lettuce, leaves separated
1 cup coriander sprigs, to serve
Method:
1. Combine fish sauce, sugar, garlic and 2 tsp of the oil in a bowl. Add beef and toss to coat. Cover and refrigerate for at least 1 hour.
2. Cook noodles as per packet instructions. Drain and keep warm.
3. Combine juice, 1 tsp ground white pepper, 1 tsp ground black pepper and 1 tsp sea salt flakes in a jug.
4. Heat a wok over a high heat. Add 2 tsp oil and swirl around. Stir-fry beef, in batches, for 2 minutes or until golden and cooked through. Transfer to a bowl.
5. Heat remaining oil. Add onion, beans and capsicum. Stir fry for 2 minutes. Return beef to wok. Stir fry for 2 minutes or until heated through. Add lemon sauce and toss through. Serve with lettuce, noodles and coriander.